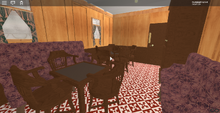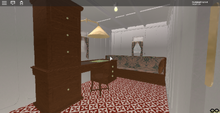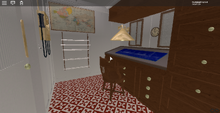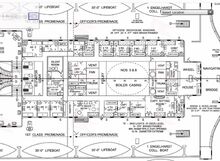 The officer's quarters were located on the Boat Deck. They were connected to both the bridge and wheelhouse. Captain Smith's quarters and 4th Officer Boxhall's quarters were located on the starboard side with the officer's smoke room. Chief Officer, 1st officer, 2nd officer, 3rd officer, 5th officer, and 6th officer| on the port side.
The Officer's Quarters consisted of the Captain's quarters, wheelhouse, officer smoke room, pilot room, navigating room, and chart room.
The 1st funnel uptake ran in the middle of the officer's quarters.
Sinking (Estimated)
Edit
Around 2:08 the officer's quarters begin flooding, starting with the bridge.
2:10 in 1997, a water reaches the door.
2:10 real life, it began to fill to about 2 feet at the front.
2:13 in 1997, the Wheelhouse floods, making it completely sink.
2:13 real life, Harold Bride and John Phillips leave the telegraph room when the water comes in.
The starboard wall of the officer's quarters has completely collapsed. Capt. Smith's cabin and bathroom are much more visible today since more of the walls and ceiling have decayed away. Forward of the collapsed portion was Chief Officer Henry Wilde's cabin. The wall now hangs out precariously over the Boat Deck. Decay of the walls and roof has accelerated in recent years. As of 2019, the starboard side of the Officer's Quarters is collapsing and Captain Smith's bathtub has collapsed to the deck below.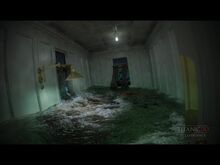 Community content is available under
CC-BY-SA
unless otherwise noted.