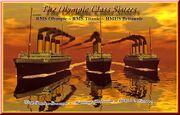 The
Olympic Class Luxury
cruisers were top of the line in the early 1900's. All three ships remain famous to this day, mainly because of the tragic sinking of the
Titanic
.
Due to the heavy concurrence of the Cunard Line's giant ships Mauretania & Lusitania, the White Star Line's director J. Bruce Ismay ordered to build their own giants to compete again. The liners weren't supposed to set speed records (like Cunard), but were supposed to be foremost in size and luxury. Two enormous ships, Olympic and Titanic, were ordered at Harland and Wolff. Another one, the Gigantic, was ordered later.
After the sinking of the Titanic, the still to be launched Gigantic was quickly renamed to Britannic, because another liner named for it's size would scare away the traumatized public. The Olympic and Britannic were rebuilt with double hull and higher Watertight Bulkheads.
When WWI broke out, the Olympic and the newly finished Britannic were deployed by the army. The Britannic became a hospital ship and was given the title HMHS Britannic rather than the planned RMS Britannic whilst the Olympic remained a royal mail ship and was used as a troop ship. They were both repainted for their new function: Olympic in dazzle camouflage befitting her service as a troop transporter, Britannic as a hospital ship.
The Britannic didn't survive the war; she struck a mine and sank.
The Olympic continued to serve as a troop ship and when the war ended she continued to serve the White Star Line until she was sold for scrap in 1935.
Chirnside, Mark. The Olympic-Class Ships
External links
Edit
Community content is available under
CC-BY-SA
unless otherwise noted.