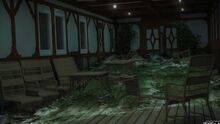 The most splendid First-Class accommodation on both the Titanic and the Olympic were the four parlour suites, two each on B and C Decks, just aft of the forward Grand Staircase landings. The two on B Deck were advertised at "Deluxe" Parlour Suites, or Promenade Suites, because they each contained a 50 ft (15.24 M.) private promenade deck. The promenade deck connected to the First-Class gangway entrances immediately forward, enabling the copious amounts of luggage usually carried by the Titanic's richest passengers to be loaded directly into their suites. The Parlour Suites each comprised two large bedrooms, two walk-in wardrobes, a private bathroom, lavatory, and a spacious sitting room.[17] The sitting rooms were lavish rooms that allowed for receiving small parties of guests. Each featured a faux fireplace, large card table, plush sofas and chairs, sideboards, and writing desks.
The two private promenade decks were unique to the Titanic, decorated in half-timber Tudor panelling, wicker deck chairs, sofas, tables and potted plants. The deck chairs were cane, made by Dryad of Leicester. The chairman of the White Star Line, J. Bruce Ismay, occupied the port-side "Deluxe" Suite on the Titanic, while the starboard suite was occupied by the American millionairess Mrs. Charlotte Drake Cardeza, her son, and entourage.
Popular culture
Edit
The port side parlor suite is the location of Rose, Cal, and Ruth's cabin locations in the 1997 film.
Community content is available under
CC-BY-SA
unless otherwise noted.