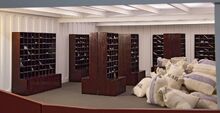 The Post Office of the RMS Titanic was located on G Deck on the starboard side towards the bow of the ship. Directly below it, on the Orlop Deck, was a holding room where the mail was stored.
The Titanic was effectively a floating post office and had been commissioned to transport and handle mail from the United Kingdom's Royal Mail service, allowing the Titanic to get the title of a Royal Mail Ship, or RMS.
Postal clerks
Edit
The Mail Room was manned by five postal clerks, Americans John March, Oscar Woody, and William Gwinn and British postal clerks John Smith and James Williamson who were to were tasked with sorting much of the mail contained within the 3,423 mail bags, they were also responsible for handling any letters which were posted on the ship.
After the collision with the iceberg, the Mail hold was one of the first affected areas due to its location towards the bottom of the ship. Once the men realized that the hold was flooding they enlisted the help of several stewards and attempted to move the 200 sacks of registered mail to the Mail Room one deck higher in the hope of saving them. But soon the Mail Room itself started to flood as well. Eventually, they gave up and went to the deck. The clerks failed to find a lifeboat and ended up swimming in the water, where they died of hypothermia.
The bodies of two of the workers Oscar Woody and fellow American John March were later recovered from the sea, None of seven million individual items of mail has ever been recovered during the aftermath or since the wreck was discovered.
Due to its location near the Squash Court and being under the Forward Well Deck area, this area was most likely ruptured when the bow hit the seabed. Ultimately, the status of this room is unknown.
Post Office on Super Ships world
Community content is available under
CC-BY-SA
unless otherwise noted.