This page is about the First Class Purser's Office. For it's second class counterpart, see Second Class Purser's Office.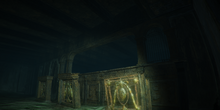 The Purser's Office was located on the C Deck landing of the Grand Staircase. First Class passengers could buy tickets for the various onboard amenities available to them. Tickets for the use of the Turkish Bath, Deck Chairs, and Swimming Bath cost $1.00 ($25.00 in 2017) and tickets for the Squash Court and Gymnasium cost $0.50 ($12.39 in 2015) The Purser had to have extensive knowledge of everyone and everything about the ship. Passengers could ask anything of a general nature of the office. The ship's daily distance was put up outside the Purser's Office and the passengers conducted much of their onboard business at the Enquiry Office such as:
Submission of various requests
Hiring of motorcars at ports of call
Purchase of postage stamps and train tickets
Sending messages and letters. (The purser would write the message and send it up to the Marconi Room on the Boat Deck)
Titanic: Adventure Out of Time
Edit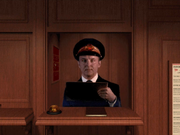 In Titanic: Adventure Out of Time, the Purser's Office is only accessible before the sinking. The player can ask the cabin for any passenger of the game. There are two mandatory visits to the office:
1) At the start of the painting quest, Carlson must look up the cargo manifest. When he goes to the Purser's Office, the Purser will be mumbling the name 'Thayer'. He will then explain that a telegram needs sending and Carlson offers to send it. Once he has done so, he should tell the Purser who will leave to deliver the news in person. Then Carlson can have a look at the cargo manifest, where he will find details of a painting that Sasha Barbicon has stored in the cargo hold.
2) Carlson will leave the Purser's Office and then go back in. When he requests the keys to the cargo hold, the Purser will tell him to go away before revealing that Isidor Straus is missing one of his cufflinks. Carlson offers to find it and hands it to the Purser, who leaves his post to deliver it in person. While he's gone, Carlson can take the keys from the key rack.
Upon leaving the Café Parisien for the first time, Carlson will bump into Daisy Cashmore who asks him to look up the name of a passenger with the initials 'G.Q.C'. When he questions the Purser, the name of the passenger is revealed as 'George Quincy Clifford'.
Titanic: Honor and Glory
Edit
The following gallery contains some renderings from Titanic: Honor and Glory that show the Purser's office.
Community content is available under
CC-BY-SA
unless otherwise noted.