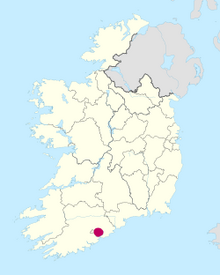 Queenstown (today Cobh) is a city on the southwest of Ireland. It was the last port Titanic arrived on her maiden voyage to before heading towards New York.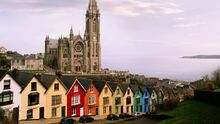 RMS Titanic

[

]
On April 11th, 1912, at 11:30 A.M., RMS Titanic dropped anchor in Queenstown. Tenders PS Ireland and PS America were waiting in the dock to transport 123 passengers out to board - 63 men and 60 women, for many of whom Queenstown was the gateway to a great new world. Several of the crème de la crème passengers had boarded at Cherbourg, therefore passengers boarding at Queenstown consisted of only 3 First Class, 7 Second Class, and 113 Third Class ticket-holders.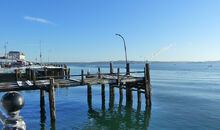 Some people who boarded Titanic in Southampton left here, with the most famous one being Francis Browne, a person that was most famous for photographs he made while being aboard.
List of passengers who boarded in Queenstown
[
]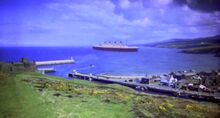 John Bourke
Catherine Bourke
Jeremiah Burke
Mary Canavan
Patrick Canavan
Jane Carr
Patrick Colbert
Thomas Henry Conlin
Michael Connaughton
Kate Connolly
Patrick Connors
William John Doherty
Bridget Donohoe
Patrick Dooly
Frank Dwan
Honor Fleming
James Flynn
Joseph Foley
William Foley
Patrick Fox
Honor Healy
Hanora Hegarty
John Horgan
Daniel Keane
James Kelly
John Kennedy

Philip Kiernan

Thomas Kilgannon
Charles Leonard Kirkland
John J. Lamb
Patrick Lane
Denis Lennon
Michael Linehan
John Lingane
Bridget Delia Mahon
Mary Mangan
Catherine McCarthy

Agnes McCoy

Alice McCoy

Bernard McCoy

Michael McEvoy
Martin McMahon
Bridget McNeill
John Meehan
Robert Mernagh
Ida Daisy Minahan
William Edward Minahan
Lillian Mae Minahan
Daniel James Moran
Thomas Rowan Morrow
Mary Mullin
Bridget Elizabeth Mulvihill
Nora Murphy
Thomas Francis Myles
Hannah Naughton
Denis O'Brien
Thomas O'Brien
Hannah O'Brien
Patrick Denis O'Connell
Maurice O'Connor
Patrick O'Connor
Hanora O'Leary
Bridget Mary O'Sullivan
Catherine Peters
Albert Rice
Arthur Rice
Eric Rice
George Rice
Matthew Sadlier
James Scanlan
Patrick Shaughnessy
Hilda Mary Slayter
Thomas Smyth
Roger Tobin