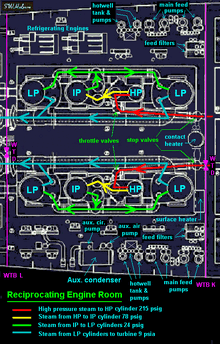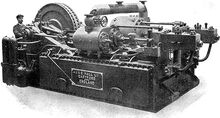 Titanic's Reciprocating Engine Room was located between the Turbine Room and Boiler Room 1. It contained the two reciprocating engines, the feedwater heaters, the ship's refrigeration plant, and other auxiliary equipment.
There are no images of the Reciprocating Engine Room, but the 1997 Film Titanic gives a good example of how the room looked like and how it worked. Titanic's top speed was 24 knots which was 27 mph. At the time of the collision, Titanic was sailing at 21 knots, even though popular belief claims she was at top speed. These engines were used to power the starboard and port wing propellers.
The Reciprocating Engine Room was compromised when the double bottom broke up and took the forward cylinders with them
Main Engine room machinery
Edit
The two reciprocating main engines arranged port and starboard, with the steam lines coming through the watertight bulkhead aft of No1 Boiler Room
The auxiliary condenser with the auxiliary seawater circulating pump situated below it
The hotwells and hotwell pumps that transfer the feed water to the feed heaters via the filters, seen against the forward bulkhead port and starboard
The auxiliary air pump that creates a vacuum on the auxiliary condenser
The main feed pumps that draw from the contact feed heater above the engineroom and discharge to the boiler feed lines and thence to the boilers
Auxiliary pumps such as forced lube oil, bilge, ballast, fire and general service
Refrigeration machinery on the port side outboard
The leading low pressure cylinders of each engine are broken off and lie in the debris field near the boilers. The mud line is even with the crankshafts. Sections of the First & Second Class Galley and upper decks rest atop the engines.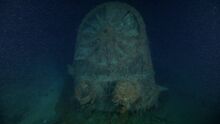 Community content is available under
CC-BY-SA
unless otherwise noted.