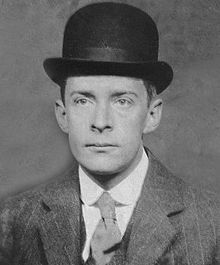 Robert Williams Daniel was a First Class passenger of the RMS Titanic. He survived the sinking. He never said himself in which lifeboat he was, but other survivors reported seeing him in Lifeboat 5, the second one to leave the sinking ship.
He was born 11 September 1884 in Richmond, Virginia to James Robertson Vivian and Hallie Wise Daniel (née Williams).  Robert was the great-grand-grandson of Edward Randolph, the first Attorney General of the United States.
Robert was en route back to Philadelphia with a newly-purchased £150 French bulldog called Gamin de Pycombe when he boarded the Titanic in Southampton as a first-class passenger on the morning of 10 April 1912. He survived the tragedy which followed, though the precise manner of his escape remains a controversial matter.  Descriptions varied in the press that followed; in at least one account it was claimed he swam completely nude in the North Atlantic for a number of hours before being picked up by a lifeboat.  It is possible – and much more plausible – that he simply boarded one of the early lifeboats launched from the starboard side of the stricken liner. His new dog was lost in the sinking.
Robert, who was seen in Lifeboat 5, told the New York Herald about Captain Smith's fate, which he 'saw' from over a mile away. "I saw Captain Smith on the bridge. My eyes seemingly clung to him. The deck from which I had leapt was immersed. The water had risen slowly, and was now to the floor of the bridge. Then it was to Captain Smith's waist. I saw him no more. He died a hero." 
This account seems to corroborate the accounts of several other survivors who said they saw Smith enter the ship's wheelhouse on the bridge, and die there when it was engulfed.
Robert succumbed to cirrhosis of the liver on the 20 December 1940.  His first wife, fellow Titanic survivor Mary Smith, had preceded him in death that May.  He was interred in Hollywood Cemetery in Richmond.