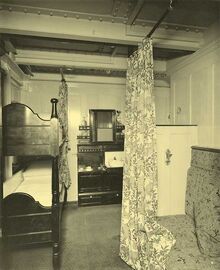 Second Class Cabins were the equivalent to first-class staterooms on most other ships of the time. The cabins spanned from deck D to G and came with bunk beds, a sink, a desk, and a sofa. The cabins had no bathroom or lavatory as washing facilities were communal for second class passengers.
The bulk of Second-class passenger staterooms were located aft of mid-ship, between D and F Decks. The majority of E-Deck staterooms were designated Second-class; visually and convenience-wise they differed little from a standard First-class stateroom. A good indication of how similar the rooms were is that large sections of the Second-class accommodation on E-Deck were First-class alternative, meaning they were normally reserved for Second-class but were prioritized for 1st-Class passengers when there was high demand. Staterooms E1-E42 were Second/First-class alternative cabins, which could accommodate either of the classes if one was overbooked.
Accommodations
Edit
Second-class staterooms were very comfortable, featuring oak paneling painted a glossy white, linoleum floors, mahogany furniture usually consisting of a large sofa, wardrobe, and dressing table with washbasin, mirror, and storage shelves. All the taps were connected to huge freshwater tanks located deep within the ship and many rooms contained "tipped" washbasins on shelves that could be folded back into the cabinet to save room. Shared staterooms were segregated by sex so that single women or men often shared staterooms with one another. Unlike in First-class, which offered many staterooms with private bathrooms, Second-class bathroom facilities were all shared. Communal lavatories and bathrooms were separated by companionways and divided by sex. A bath could be had on request to a steward and bed linen was changed daily.
D Deck: At the stern of D Deck there were 39 Second Class staterooms. They were labeled from D-51 to D-89.
E Deck: There were 65 staterooms on E Deck, all of them on starboard side. They were labeled from E-43 to E-107. 46 of them were alternative 1st class for when there was high demand. They were counted as second class cabins though. They went from E-43 to E-88.
F Deck: There were 64 staterooms on F Deck. They were labeled from F-1 to F-69. There was no F-13 for superstition. There were no rooms labeled F-46, F-48, F-66 or F-68 either.
Community content is available under
CC-BY-SA
unless otherwise noted.