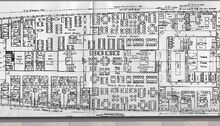 Titanic's second class dining room, located on D Deck, could accommodate all 564 second class passengers in a single seating.
It was a large elegant room, with mahogany furniture upholstered in crimson. A piano provided entertainment for the diners.
The long tables and mahogany swivel chairs were bolted to the floor in case of bad weather during the voyage.
The meals were prepared in the First & Second Class Galley, which also served the much larger First Class Dining Saloon also located on the same deck.
The dinner menu on the evening of April 14th, 1912, the night of the collision, shows that the second class passengers enjoyed a hearty three-course meal, with a consommé to start, then a choice of four main courses: baked haddock, chicken curry, spring lamb and roast turkey, followed by dessert and coffee.
For many of those on board, this would be their last meal.
The dining room was crushed by the Second Class Library on C Deck above when the stern hit the ocean floor.
Differences with Sisters
Edit
HMHS/RMS Britannic
Edit
This dining room had the same layout to Titanic's. It was used as a patient's dining hall when Britannic was in hospital service
RMS Olympic
Edit
This dining room was originally the whole width of the ship. Later on, this room was reduced to the the middle and starboard side of the room. The port side of the room and and further aft to the NO. 5 hatch became the Tourist Dining Room.
"The panelling of this room is carried out in oak … at the forward end a specially-designed sideboard, with a piano in the centre, is provided; the furniture is in mahogany, the upholstery of crimson leather and the floor has linoleum tiles of special design".
White Star Line
Community content is available under
CC-BY-SA
unless otherwise noted.