The Second Class Staircase is the main access staircase for Second Class passengers aboard the RMS Titanic. Located at the aft of the ship, behind the First Class Aft Grand Staircase, there were 2 stairwells.
The forward staircase spiraled down from the Boat Deck to F Deck, but it had no exit on A Deck, as that was an exclusively First Class deck. It was equipped with a lift operated by Reginald Ivan Pacey. Having a lift attendant in Second Class was an innovation at the time.
The aft staircase was located below the aft mast. Although it had no elevator, it was was all paneled in wood, with white and red linoleum tiles on the floor. There were a couple of wicker chairs on each landing. It spanned from B Deck to F Deck and gave access to various locations like the Second Class Promenade, the Poop Deck, the Second Class Library, the Second Class Dining Room, and the Second Class cabins on F Deck.
Both stairways were more modestly designed than their First-class counterparts; the balustrades were made entirely of oak and the flooring was in white and red patterned linoleum.
The upcoming game Titanic: Honor and Glory is the first game to really show the differences between the two Second Class Staircases.
Wreck
The Forward 2nd Class Staircase: The starboard wall of the Second Class entrance split and collapsed in. The port wall is generally intact. The fore wall is smashed and the starboard wall is caved inward and split. The weather shields for the doors are still in place. The
Boat Deck
aft of the entrance caves-in down to
A Deck
. The elevator machinery housing on top fell in sideways, smashing the elevator walls below. The four big access panels facing upward are open, exposing the machinery within. As of 2012, the Second Class entrance is heavily corroded.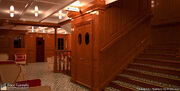 The Aft 2nd Class Staircase: The aft wall of the aft staircase has become a very prominent feature in the destruction. The wall with the windows is torn off the deck and lies slightly twisted over the stairwell in the entrance.
Gallery