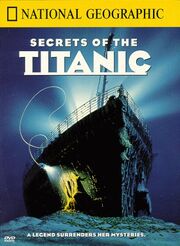 Secrets of the Titanic is a 1987 documentary by National Geographic about the discovery of the wreck of the RMS Titanic.
Discover the REAL story behind the biggest Hollywood movie of all time! After years of painstaking research, Dr. Robert Ballard finally located the ill-fated RMS Titanic, nearly two-and-one-half miles down in the icy Atlantic. Now, along with Ballard and his team, be among the first humans to see the Titanic since its sinking, as on-location footage presents this historic expedition as it actually happened!
Community content is available under
CC-BY-SA
unless otherwise noted.