Southampton is the largest city in the ceremonial county of Hampshire on the south coast of England,[1] and is situated 75 miles (121 km) south-west of London and 19 miles (31 km) north-west of Portsmouth. Southampton is a major port and the closest city to the New Forest. It lies at the northernmost point of Southampton Water at the confluence of the River Test and River Itchen,[2] with the River Hamble joining to the south of the urban area. The city, which is a unitary authority, has an estimated population of 253,651. The city's name is sometimes abbreviated in writing to "So'ton" or "Soton", and a resident of Southampton is called a Sotonian.[3]
Significant employers in the city of Southampton include The University of Southampton, Southampton Solent University, Southampton Airport, Ordnance Survey, BBC South, the NHS, ABP and Carnival UK. Southampton is noted for its association with the RMS Titanic.[4].
In the 2011 census Southampton and Portsmouth were recorded as being parts of separate urban areas, however by the time of the 2011 census they had merged to become the sixth largest built-up area in England with a population of 855,569. This built-up area is part of the metropolitan area known as South Hampshire, which is also known as Solent City, particularly in the media when discussing local governance organisational changes. With a population of over 1.5 million this makes the region one of the United Kingdom's most populous metropolitan areas.[5]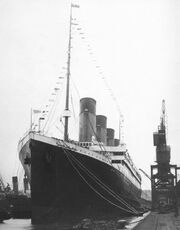 Southampton was the place where Titanic received most of her passengers & crew. As many as 1647 passengers & crew boarded the ship at Southampton, not including the crew members of the delivery trip who signed-on again. As the ship departed, a near-collision with another ship took place, causing a 1-hour delay.
695 passengers & crew gave their last residence as somewhere in Southampton, but 'only' 182 passengers & crew were actually born in the city.
Community content is available under
CC-BY-SA
unless otherwise noted.