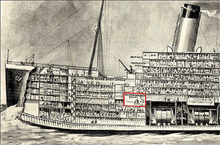 The Titanic featured a squash racquet court in the bow, deep within the ship on G-Deck. It measured 30 ft. long X 20 ft. wide and, like the Gymnasium, had its own instructor on staff, Mr. Frederick Wright. The charge to play was 2 shillings (£10 in 2020) or $0.50, for half an hour, a price which would be approximately equivalent to $13.10 in 2020.
There was an accompanying Spectator's Gallery on F Deck overlooking the court. It could be entered only by a separate staircase starting on D Deck, from where a passenger would descend the three decks past the viewing platform to descend a stairway to G Deck and turn right once more, before opening the door leading to the Squash Court.
The room flooded just minutes after Captain Smith gave the order to send for help.
This room is unexplored, and its condition is unknown. It could be in good condition due to being an interior room. However, it also could be damaged or destroyed due to the 10-degree bend in the forward well deck and forecastle deck.
Community content is available under
CC-BY-SA
unless otherwise noted.