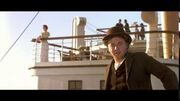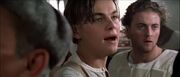 The Third Class (aka Steerage) was the working class, made up mostly of immigrants on their way to a new life in America. Single men were berthed in the bow and single women and families in the stern. Steerage berths were located on E, F, and G Deck.
Although steerage is commonly considered "the class of the poorer", Titanic's steerage section still featured accommodations and common rooms that were considered to be as opulent as those in the First Class sections of many other ships of the day.
There was a Promenade for use on B Deck in the bow and stern. A General Room and Smoke Room were available for use on C Deck in the stern and an open space for single men in the bow where they could drink and play cards. Scotland Road on E Deck was the main point of access from the stern to the bow and vice versa.
When the ship hit the iceberg on Monday April 15th, 1912; the forward steerage cabins on G Deck began to flood almost immediately.
The upcoming video game Titanic: Honor and Glory will feature steerage like never before. No other PC game did that. Third class was often held back by crew or barriers to the boat deck.
Community content is available under
CC-BY-SA
unless otherwise noted.