Thomas Andrews, Jr. (February 7th, 1873 - April 15th, 1912) was an Irish businessman and shipbuilder, as well as the managing director and head of the draughting department for the shipbuilding company Harland and Wolff in Belfast, Ireland. Andrews was the shipbuilder in charge of the plans for the ocean liner RMS Titanic. He was traveling on board the Titanic during its maiden voyage when it sank on April 15th, 1912 and was one of the 1,496 people lost in the sinking.
Biography
Early Life
Thomas Andrews Jr. was a son of the Right Hon. Thomas Andrews and Eliza Pirrie; he was also a nephew of Lord Pirrie, principal owner of Harland & Wolff (the shipbuilders of the Titanic). He had 3 brothers: John Miller (1871-1956), James (1877-1951) William (1886-1966) and and 1 sister Eliza (1874-1930). John Andrews grew up to become the second Prime Minister of Northern Ireland, while James Andrews became Lord Chief Justice of Northern Ireland.
In 1884 Andrews entered the Royal Belfast Academical Institution, but at the age of 16 he left school and entered Harland & Wolff shipbuilders as a premium apprentice, gradually working his way up through various departments. He eventually became the managing director of H & W in charge of designing, and was familiar with every detail of the construction of the firm's ships. In 1901 Andrews became a member of the Institution of Naval Architects, and on June 24, 1908 he married Helen Reilly Barbour; two years later a daughter, Elizabeth, reffered to as Elba, was born to the young couple and they lived at Dunallon, Windsow Avenue, Belfast.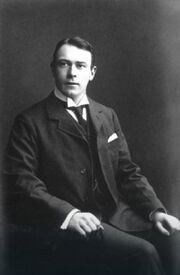 Thomas Andrews made a point of sailing with a team of mechanics on the maiden voyages of the Adriatic, Oceanic and Olympic in order to observe their operation and recommend improvements to future vessels slated to be built by his firm. It was for this very reason that Andrews planned to sail on Titanic 's maiden voyage to America, and the thirty-eight-year-old executive left his wife and daughter in Belfast while he accompanied the vessel first to Southampton and, later, out onto the vast expanse of the North Atlantic. In his final letter to Mrs. Andrews he expressed his satisfaction with the new vessel: "The Titanic is now about complete and will I think do the old Firm credit tomorrow when we sail" . Andrews boarded with a complimentary ticket No. 112050.
Onboard the Titanic
At sea, Andrews had spent most of the journey making notes and assisting the crew with minor difficulties as they got to know the new ship. Always a popular man on these trips, everyone came to him with his issues. One time First Officer Murdoch wanted to talk to him that he had been relegated from chief officer to first officer. Another time, he settled a quibble between 2 stewardesses, who saw Andrews as some higher court of justice. Chief Baker Charles Joughin had even baked Andrews a special loaf of bread[1].
On the evening of April 14th, as usual, Bedroom Steward Henry Samuel Etches arrived at 6:45 to help Andrews dress for dinner which he usually took with Dr. O'Loughlin the ship's surgeon. After dinner, Andrews returned to his cabin (A-36) to pore over blueprints and collate his notes. He planned to reduce the size of the Reading and Writing Room because it was barely used, a few extra cabins could be added. Andrews barely noticed the collision and was unaware of any problem until Captain Smith sent a message requesting his immediate presence on the bridge.
Later, Saloon Steward James Johnson described how he saw Andrews and Captain Smith touring the forward part of the ship, they visited the flooding mail room and the squash court which was also quickly filling with water. Back on the bridge, Andrews broke the news to Captain Smith that in view of the damage the ship had suffered he did not expect her to stay afloat more than two hours.
During the liner's final hours Andrews wandered the decks encouraging passengers to wear their lifebelts and to make their way to the boats.
In the final moments, John Stewart saw Andrews in the First Class Smoke Room, staring at a painting, his life jacket discarded on a nearby table. "Aren't you gonna try it, Mr. Andrews?" Andrews didn't reply; he didn't even look at Stewart. The shipbuilder was left behind while the steward boarded one of the last lifeboats, No. 15.
Death
At around 2:00 A.M., Andrews was seen back on the Boat Deck. The crowd had begun to stir, but there were still women reluctant to leave the ship. It appears that Andrews stayed in the smoke room for some time to gather his thoughts, then he continued assisting with the evacuation. To be heard and to draw attention to himself, Andrews waved his arms and announced to them in a loud voice. Another reported sighting was of Andrews frantically throwing deck chairs into the ocean for passengers to use as floating devices. Andrews then headed towards the bridge, searching for Captain Smith and they had a brief conversation. Andrews was last seen leaving the ship at the last moment. He died in the sinking. His body, if recovered, was never identified. Most facts prove that he sat down in the smoke room, heartbroken of his ship's grave mistake, and watched the fireplace as he died.
Whatever he was thinking at the time he spent in the smoke room, the phrase which echoed back was "heroic until death." Those were the words used by his cousin, James Montgomery when he telegrammed back to the Andrews family from New York with the news of his loss.
Was Andrews the hero that history has portrayed him as? His great-nephew, John, often remarks that at 39 he had not yet had time to make his mistakes. In a world that needs heroes to define right and wrong, Thomas Andrews has been given the role whether it is wholly true or not. There is certainly no evidence to suggest anything other than the strength of character and adherence to the Andrews family motto, "Always Faithful."
Memorials
There are memorials and reminders of Thomas Andrews which can be visited today. In his home town of Comber, a primary school has been named in his honour. Two years after his death, a memorial hall was erected across the road from the family mill. His young daughter attended the opening ceremony. Today, the hall has just undergone a restoration and is used as part of the school and as a community facility. The Andrews name is also the first on the role of honour at the Titanic Memorial at Belfast City Hall and on the Engineers' Memorial in Southampton. There is also a brass plaque dedicated to him at the Ulster Reform Club in Royal Avenue in Belfast. At his old school, the Royal Belfast Academical Institution, the Belfast Titanic Society and the Andrews family have arranged for the restoration of a plaque commemorating Andrews and Titanic's second class surgeon, Dr John Edward Simpson.
Portrayals
Thomas Andrews was an important passenger of the Titanic, making him be portrayed in most popular culture. Perhaps the best-known popular culture no to feature Andrews is the 1996 miniseries. He is portrayed in A Night to Remember, S.O.S. Titanic, the 1997 film (by Victor Garber) and the 2012 miniseries, etc.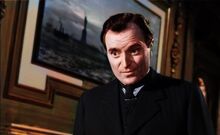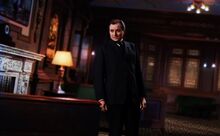 A Night to Remember gives a better portrayal of Thomas Andrews, portrayed by Michael Goodliffe. He was in his cabin when the ship struck an iceberg, and completely unaware of any danger when Sixth Officer Moody calls him to the bridge.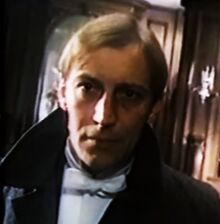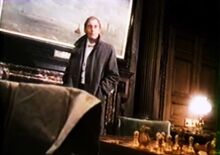 Thomas Andrews was portrayed by Geoffrey Whitehead in S.O.S. Titanic (1979).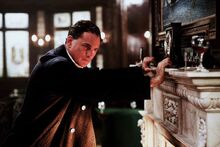 Thomas Andrews was portrayed by Victor Garber in the 1997 Titanic film. He's stay on the smoking room and gives his lifebelt to Rose.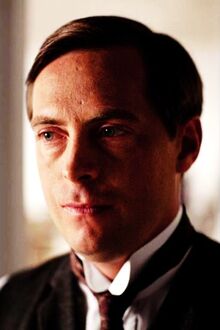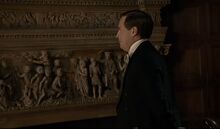 In the 2012 miniseries, he was portrayed by Stephen Campbell Moore. While in this miniseries, Andrews only gets to know about the iceberg from Captain Smith when he's already deep below decks.
External links
Community content is available under
CC-BY-SA
unless otherwise noted.