No Official Name
This article has no official name whatsoever. Its current name is tentative.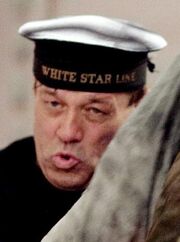 Unnamed seaman 1 was a fictional seaman of the RMS Titanic who appeared in the 2012 Miniseries. He was portrayed by stunt performer László Szili in an uncredited appearance.
Appearance
Edit
The Seaman was 5′ 8″ (1.72 m) tall, white male. He had short, brown hair and brown eyes. During his appearances on the show, he wore a standard blue seaman suit.
Biography
Edit
He appeared when Sixth Officer Moody came to take a look at the Third Class passengers. He and another unnamed seaman joined Moody down and helped the Third Class stewards holding passengers back. Steward Turnbull told Moody that the Italian waiters from Gatti's Restaurant were "safely under lock and key", the seamen had locked them up in a storage cupboard.
Suddenly, fireman Mario Sandrini appeared on the other side. Steward Turnbull opened the gate and dragged Sandrini in, all passengers escaped while Sandrini was carried away by the two seamen. They locked him up with the waiters. [1]
Unlike his partner, this seaman failed to find a lifeboat and ended up at Collapsible B. He was washed away when the boat floated off upside-down.[2][3]
Historical accuracy
Edit
It is noted that none of the seamen on the Titanic locked any of the À la Carte Restaurant staff members in a locked room. They were kept back by stewards, but Paul Achille Maurice Germain Maugé and Pierre Rousseau were allowed onto deck.
Also their age is inaccurate, László Szili was probably in his early sixties during the 10 week shoot of the mini-series. The actual age of the sailors of the Titanic was from 19 to 48.
Community content is available under
CC-BY-SA
unless otherwise noted.