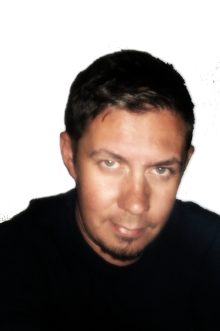 I am Gino Hart and I live in South Africa - a place more commonly known for politics and racial differences. I was raised in the small town called Oranjeville on the banks of the great Vaal dam. It was country living... and some might say what urged me to follow my dream.
I have a tremendous passion for the Titanic - so much so that I decided to build my own giant Titanic model in miniature called "TINTANIC" - because her shell is made of "tin" or "aluminium". My project is completely sponsor driven and I like to think of it as a fun, educational and highly unique Titanic model.
The "TINTANIC" is not a direct replica of the Titanic - so NOT for rivet counters - but rather a familiar version of the Titanic, which corresponds indirectly with many areas of the real ship. It was envisioned to be a replica with an artistic minor license - keeping true to the real Titanic to almost 90%. The "TINTANIC" is a work of art really - more like the Mona Lisa with a different smile. My aim has been to recreate the splendor with an almost cartoon appearance.
The model is 27 ft long, 3 ft wide and 6 ft tall. I am constructing the "TINTANIC" to showcase miniature interior spaces on all interior decks, complete with passengers and crew. The "TINTANIC" is a six year project and will be complete in the year 2021. End of September 2016 will mark the completion of her exterior hull from end to end.
I am documenting the construction process entirely and those Titanic enthusiasts who wish to see her in full living color can look forward to a series of six DVDs titled "TINTANIC, PRACTICALLY UNTHINKABLE!" released annually - one season a year each documenting a different part of the model. I enjoy Titanic, always have - I live for the story of the Titanic. I never get bored with it.
I was blessed and lucky enough to be afforded the opportunity to work as a host or master of ceremonies// tour guide at the world famous TITANIC, The Artifact Exhibition courtesy of Premier Exhibitions and ExpoRSA when it visited our country for the first time - it was a dream come true! What a blast from the past!!
I have sparked a small community of Titanic enthusiasts in South Africa who form the core of the TINTANIC CLUB - my aim is to promote Titanic enthusiasm via the "TINTANIC" model. I would dearly love to travel around our country and inspire a whole new generation of Titanic enthusiasts. It is such a powerful story.
You can follow me and the TINTANIC project on www.tintanicmodelship.weebly.com - however since I make my living from the TINTANIC, I find myself greatly disinterested in posting images of her to the website or make any of it public - I urge all interested to join the TINTANIC CLUB or buy the DVDs - every little bit helps me build her.
Anyone in general interested in the Titanic or the TINTANIC however is welcome to contact me for a chitchat via my email address tintanicmodelship@gmail.com
Thanks for reading about me!!!
My favorite pages
[
]
Add links to your favorite pages on the wiki here!
Favorite page #2
Favorite page #3