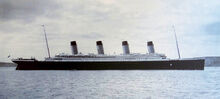 Student, 20 yo, Titanic buff, writer of fiction, occasionally an artist. Probably hanging around the Titanic wikia, procrastinating on homework. Somebody should probably tell me to get off the internet and go to sleep. 
Currently working on a novel set on the RMS Titanic, over on my Wattpad, which is where I spend the other half of my time when I'm not on here.
I'm new to the Titanic wiki, and I'm very excited to help contribute, as I absolutely love the site and the ship herself! Feel free to leave a message to chat about the Titanic any time.
Favorite Titanic Wiki Pages Edit
Favorite Titanic Books Edit
Community content is available under
CC-BY-SA
unless otherwise noted.