William Denton Cox was a Third Class steward of the Titanic.
When William signed-on to the Titanic, on April 4th, 1912; he gave his address as 110 Shirley Road, Southampton. He was transferred from the Olympic. As a third class steward, he received monthly wages of £3 15s.
During the sinking of the Titanic, Cox led groups of steerage passengers up to the boat deck aided by fellow third class stewards John Edward Hart and Albert Victor Pearcey. Unlike Hart, Cox also included men in his group.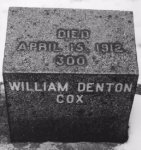 Cox died in the sinking. His body was recovered by the CS Mackay-Bennett (#300), and was buried at Fairview Lawn Cemetery, Halifax, Nova Scotia on May 7th, 1912.
NO. 300. - MALE. - ESTIMATED AGE, 30. - HAIR & MOUSTACHE, FAIR.
CLOTHING - Blue pants; Steward's white jacket.
EFFECTS - £1 3s. 6d.
PORTER NO. 9.
NAME - WILL DENTON COX.
110 Shirley Rd., Southampton.

Portrayals
Edit
Despite being known for helping Hart with assisting the steerage passengers to the lifeboats, unlike Hart, Steward Cox is not portrayed in any popular culture.
Even though, in 2012 Miniseries Titanic, there is a steward who helps Hart, in bringing the women and children to the gate before Steward Turnbull cuts off the line. [1]
Community content is available under
CC-BY-SA
unless otherwise noted.