Lieutenant William McMaster Murdoch RNR (February 28, 1873 - April 15, 1912) was the First Officer aboard the RMS Titanic, and was one of roughly 1,500 people who died when the luxury liner sank in the Atlantic in 1912. Murdoch was on duty that night when he heard the shout: Iceberg right ahead!, before he famously replied: Stop engines, hard a-starboard, full astern, and then rang the warning bell. CBS' 1996 miniseries "Titanic" and James Cameron's epic "Titanic" portrayed Murdoch shooting passengers and himself during the sinking. This scene was slander and the culprits were brought to justice.
Life and career
Murdoch was born in Dumfries and Galloway, Scotland, the fourth son of Captain Samuel Murdoch, a master mariner, and Jane Muirhead, six of whose children survived infancy. The Murdochs were a long and notable line of Scottish seafarers who sailed the world's oceans as early as the 19th century; William's father and grandfather were both sea captains as were four of his grandfather's brothers and it is little wonder that he followed in the family tradition.
Murdoch was educated first at the old Dalbeattie Primary School in High Street, and then at the High School in Alpine Street until he gained his diploma in 1887. He was remembered as being an intelligent and hard-working scholar. Finishing schooling, he followed in the family seafaring tradition and was apprenticed for five years to William Joyce & Coy, Liverpool, but after four years (and four voyages) he was so competent that he passed his Second Mate's Certificate on his first attempt.
He served his apprenticeship aboard the Charles Cosworth of Liverpool, trading to the west coast of South America. It would have been a harsh apprenticeship, but it gave Murdoch the determination he needed to succeed. From May 1895 he was First Mate on the Saint Cuthbert, which was to sink in a hurricane off Uruguay in 1897. Murdoch gained his Extra Master's Certificate at Liverpool in 1896, at the age of 23. From 1897 to 1899 he was First Officer aboard the J.Joyce & Co. steel four-masted 2,534-ton barque Lydgate, that traded from New York to Shanghai.
From 1900 to 1912, Murdoch gradually progressed from Second Officer to First Officer, serving on a successive number of White Star Line vessels, Medic (1900 - along with Charles Lightoller, Titanic's second officer), Runic (1901-1903), Arabic (1903]), Celtic (1904), Germanic (1904), Oceanic (1905), Cedric (1906), Adriatic (1907-1911) and the Olympic (1911-1912).
During 1903, Murdoch finally reached the stormy and glamorous North Atlantic run as Second Officer of the new liner Arabic. His cool head, quick thinking and professional judgement averted a disaster when a ship was spotted bearing down on the Arabic out of the darkness. He overrided a command from his superior, Officer Fox, to steer hard-a-port, rushing into the wheelhouse, brushing aside the quartermaster and holding the ship on course. The two ships passed within inches of one another. Any alteration in course would have actually caused a collision.
The final stage of Murdoch's career began in May 1911, when he joined the new RMS Olympic, at 45,000 tons. Intended to outclass the Cunard ships in luxury and size Olympic needed the most experienced large-liner crew that the White Star Line could find. Captain Edward J. Smith assembled a crew that included Henry Tingle Wilde as Chief Officer, William Murdoch as First Officer, and Chief Purser Henry W. McElroy. On June 14, 1911, Olympic made her maiden voyage to New York.
The first indications of what was to come occurred on September 20, when the Olympic had her hull badly damaged in a collision with the Royal Navy cruiser HMS Hawke. Since Murdoch was at his docking-station at the stern of the ship during this collision -a highly responsible position- he found himself giving evidence in the inquiry into an incident that turned into a financial disaster for the White Star Line, as the voyage to New York had to be abandoned and the Olympic taken to Belfast for repairs, which took a good six weeks. It was thus not until December 11, 1911, that Murdoch rejoined his ship. During the time that he served aboard Olympic as First Officer (until some time in March, 1912) there were two further -though lesser- incidents, striking a sunken wreck and having to have a broken propeller replaced, and nearly running aground while leaving Belfast.
However, upon reaching Southampton, he learned that he had been appointed as Chief Officer of the new Titanic, sister ship to Olympic and reputedly the largest and most luxurious ship afloat. Lightoller later remarked that "three very contented chaps" headed north to Belfast, for he had been appointed First Officer, and their friend Davy Blair was to be the new second officer. Awaiting them would be an old Adriatic hand, Joseph Groves Boxhall, as Fourth Officer, and others who would be familiar colleagues, including the now ageing Edward John Smith, as Captain, and on the verge of retirement.
RMS Titanic
Thirty nine year-old Murdoch, with an "ordinary master's certificate" and a reputation as a "canny and dependable man", had climbed through the ranks of the White Star Line to become one of its foremost senior officers. It was only natural that he was selected to be Titanic's Chief Officer, with sixteen years of maritime experience now behind him.
Murdoch had originally been assigned as the ship's Chief Officer, though when the Titanic's skipper Edward Smith brought Henry T. Wilde, his Chief from his previous command, Murdoch was temporarily reduced to First while First Officer Charles Lightoller was in turn reduced to Second. The original Second, [[David Blair], would sit out the voyage altogether while the rest of the ship's complement of officers remained unchanged.
Murdoch was the officer in charge at the bridge when the Titanic struck the iceberg on April 14, 1912. He gave orders to 'full speed astern' and 'hard a starboard'. Some historians argue that reversing the engines gave a higher chance of hitting the iceberg than reducing the ship's forward motion and slowly turning the ship. Nonetheless, Murdoch was put in charge of the starboard evacuation where he was last seen attempting to launch Collapsible Lifeboat A.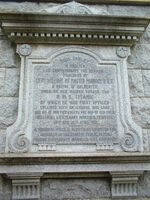 After Titanic disappeared into the Atlantic Ocean on the morning of April 15, 1912, nothing more was ever seen of 1st Officer William Murdoch. His body, if recovered, was never identified. Several members of the crew, including the ship's lamp trimmer, Samuel Hemming, and Second Officer Charles Lightoller saw Murdoch attempting to free Collapsible A from the falls on the Boat Deck just before the bridge submerged in the final stages of the sinking, when a huge wave washed him overboard into the sea. Surviving wireless operator Harold Bride later stated that after the ship sank, he saw Murdoch and Moody in the water nearby Collapsible Lifeboat "B," but that they were already dead. Murdoch was clinging to a broken deck chair showing he died from hypothermia. Moody appeared to have a head injury (which prompted Bride to wonder at the time if Moody had been shot.)
In his home town of Dalbeattie, Dumfries and Galloway, Scotland there is a memorial to his heroism and a charitable prize has been established in his name.
Portrayals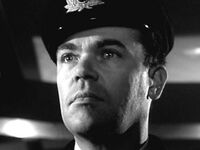 In the 1953 version of Titanic, Murdoch was portrayed by Barry Bernard. In the 1958 of A Night to Remember, he was portrayed by Richard Leech. In the 1979 made-for-television film S.O.S. Titanic, he was played by Paul Young. In the 1996 made-for-television version, he was played by Malcolm Stewart and in the blockbuster 1997 version, Ewan Stewart.
In the 1997 film, it depicted Murdoch taking — but later rejecting — a bribe from first-class passenger, Caledon Hockley, and shooting two men dead. After this, Murdoch saluted Chief Officer Henry Wilde and committed suicide. In CBS' 1996 miniseries "Titanic", Murdoch is also portrayed shooting himself. However, Second Officer Charles Lightoller and the Second Wireless Operator and Marconi employee Harold Bride both saw Murdoch trying to untangle the falls (hoist ropes on a lifeboat's davits) before the ship sank, throwing them all into the water. Murdoch's actions throughout were those of a reasonable and honorable seaman.
The Evidence of Charles Herbert Lightoller
This is of particular importance as it is from a man who worked beside William Murdoch and is known to have respected him. Both had served aboard the liner 'Arabic' on an occasion when Murdoch averted a collision. The most important evidence is a transcript of a letter Lightoller wrote to Mrs. Ada Florence Murdoch from New York. It shows impulsive outrage rather than an attempt to conceal the truth. :- Hotel Continental, Washington. April 24th, 1912.

Dear Mrs. Murdoch,
I am writing on behalf of the surviving officers to express our deep sympathy in this, your awful loss. Words cannot convey our feelings, - much less a letter. I deeply regret that I missed communicating with you by last mail to refute the reports that were spread in the newspapers. I was practically the last man, and certainly the last officer, to see Mr. Murdoch. He was then endeavouring to launch the starboard forward collapsible boat. I had already got mine from off the top of our quarters. You will understand when I say that I was working the the port side of the ship, and Mr. Murdoch was principally engaged on the starboard side of the ship, filling and launching the boats. Having got my boat down off the top of the house, and there being no time to open it, I left it and ran across to the starboard side, still on top of the quarters. I was then practically looking down on your husband and his men. He was working hard, personally assisting, overhauling the forward boat's fall. At this moment the ship dived, and we were all in the water. Other reports as to the ending are absolutely false. Mr. Murdoch died like a man, doing his duty. Call on us without hesitation for anything we can do for you. Yours very sincerely, (Signed :-) C.H.Lightoller, 2d Officer; G. Groves Boxhall, 4th Officer; H.J. Pitman, 3d Officer; H.G. Lowe, 5th Officer.
Ada sent the letter to the Dumfries & Galloway Standard & Advertiser which published the letter on 11th May 1912. The wording and spelling is as in the original.
The Evidence of Harold Sideney Bride
During 1954, Harold Bride told Mr. Ernest Robinson, maritime historian, that he had been near William Murdoch at the time of the abrupt sinking of the 'Titanic'. They had been part of a group trying to launch the forward starboard collapsible lifeboat, normally stored on the roof of the officers' quarters. Bride initially on Port side, assisting with Collapsible B. This falls bottom-up on the boatdeck. Bride goes round to Collapsible A either over the deck-housing or through the enclosed bridge. Bride is near Murdoch, who is helping to sort Collapsible A. Bridge goes under, boat deck engulfed, Murdoch and Bride are both swept off the boatdeck and into the sea. Some men are swimming towards Collapsible A, which has floated off. The forward funnel stays part with sounds like gunshots as the funnel sways forwards and to starboard and crashes down on those swimming near Collapsible A. That boat is swamped, those in it hurled out, as it is moved farther away off the starboard side. Bride is on the wrong side of the funnel and is swept towards the centreline of the submerged bow section, now sinking more rapidly. Like Lightoller, he is sucked down, but unlike Lightoller he comes up under the still-capsized Collapsible B. B is there because of being sucked sideways towards the centreline of the sinking ship. After a time of great fear, Bride manages to emerge from under Collapsible B and hangs onto its side. Later he reaches the top when people help him up, by then the Titanic had gone under. In the sea, Bride sees Murdoch clinging to a deck chair but already dead, Moody is by his side, also dead.
The sad truth may be that it was the Chief Officer, Henry Tingle Wilde, who ended his own life in desperate circumstances.
References
William McMaster Murdoch, A Career at Sea. By Susanne Störmer
External links
Community content is available under
CC-BY-SA
unless otherwise noted.