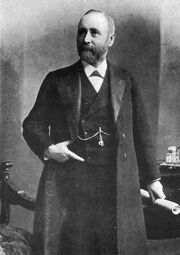 William James Pirrie was born in Quebec, Canada on May 31st, 1847 the only son of James Alexander Pirrie his wife Eliza (neé Montgomery). Pirrie's family lived at Conlig, County Down.
Following an education at the Royal Belfast Academical Institution, in 1862, he entered the firm of Harland and Wolff. So meteoric was his rise that by 1874 he had been made a partner. He would remain with the firm all his life. Pirrie nurtured a close and lucrative working relationship with first Thomas Henry Ismay and later his son, Joseph Bruce Ismay who led the White Star Line. Harland and Wolff was the sole constructor for White Star, building its ships to the highest specifications on what was termed a "cost-plus" basis.
Pirrie was instrumental in the formation of the International Mercantile Marine under John Pierpont Morgan which consolidated maritime transport in the North Atlantic with obvious benefits to his firm.
He was Lord Mayor of Belfast from 1896 to 1897 and was made Baron Pirrie of Belfast in 1906 (Viscount Pirrie in 1921 when George V visited Belfast).
Early 1912, Pirrie got seriously ill and had to have a prostate surgery in March. He cancelled his scheduled presence on Titanic's sea trials and maiden voyage, sending Thomas Andrews instead. After the sinking, Pirrie was still in recovery and was not asked to testify for either of the inquiries. He eventually made a full recovery.
Lord Pirrie caught pneumonia and died at sea on June 6th, 1924 while on a business tour of South America. His body was brought from New York on the RMS Olympic, and was buried in Belfast City Cemetery
Popular culture
Edit
Pirrie isn't portrayed in most popular culture, because he wasn't on board the ship. However, the 2012 Miniseries Titanic also has a few scenes in Belfast, where Pirrie makes a brief apperance.
Episode 2 of 2012 Miniseries
Edit
Pirrie is first seen when he complains to Thomas Andrews about the slow speed of the electricity completion on board the Titanic. Pirrie wants the wiring to be quickly finished, but Jim Maloney, the engineer, prefers to have backups if one system fails. Pirrie seems to overtrust the Titanic, saying nothing will fail. He expects a meeting with Bruce Ismay and leaves the ship.
Soon after, Pirrie discusses the amount of lifeboats to install on the Titanic with Andrews and Ismay. Andrews is worried the White Star Line might be cutting corners, but neither Pirrie or Ismay seem to worry about the fact there are not enough lifeboats for everyone and that the Watertight Bulkheads don't reach up to the deck. Andrews also complains about the fact that only the sides are riveted with strong steel rivets, while stem and stern are riveted with weaker iron rivets. When he starts about the riveters as well, Ismay cuts him off and suspects him from insulting the company. Andrews apologizes, but he's still angry.
Back outside, Ismay says he'll miss the sea trials, but not the maiden voyage. Pirrie also cancels for the voyage. Once Ismay is gone, he asks Andrews to give Jim empowerment of the completion of the electrics, because they will need power on the trials.
Community content is available under
CC-BY-SA
unless otherwise noted.