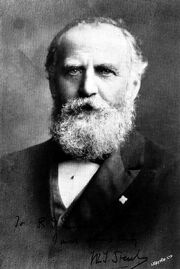 William Thomas Stead
 was a First Class passenger of the
Titanic
. He died in the
sinking
.
He was from Cambridge House, Wimbledon Park, London SW and Holly Bush, Hayling Island, Hampshire, and was a well known journalist and author.
Stead was born in Manse, Embleton, Northumbria on 5 July 1849, he was the son of Rev. W. Stead a congregational minister and Isabella, daughter of John Jobson, a Yorkshire farmer.
In 1898 Stead had visited the Tsar of Russia and this visit spurred him to found and edit the War against War, which was a weekly paper. At this time he also preached what he termed a "Peace Crusade." After the Hague conference, which he attended, he strongly opposed the war in the Transvaal and wrote Shall I Slay my Brother the Boer, and also published the weekly organ of the Stop the War Committee, War against War in South Africa. In 1900 Stead supported the formation of a Union International to combat Militarism and to secure the adoption of the recommendations of the Hague Conference. At the same time he maintained his interest in publishing and began a series of portfolios of pictorial masterpieces.
Until his death Stead continued to preach "peace through arbitration" and when he boarded the Titanic in Southampton, he was traveling to America to take part in a peace congress at Carnegie Hall on 21 April at the request of the president William Howard Taft.
Stead occupied cabin C-87 (? C-89), but while the ship sank he sat quietly reading a book in the First Class Smoke Room.
Curiously, on 22 March 1886 Stead had published an article entitled How the Mail Steamer Went Down in Mid-Atlantic, by a Survivor. In the story an unnamed steamer collides with another ship, and due to a shortage of lifeboats there is a large loss of life. Stead wrote, "This is exactly what might take place and will take place if liners are sent to sea short of boats. —Ed."
An 1892 edition of the Review of Reviews carried the fictional story of an accident involving a White Star Line vessel. In the story—entitled From the Old World to the New—a ship called the Majestic carries a clairvoyant who senses a disaster to another ship that has collided with an iceberg. The survivors are rescued, and the Majestic manages to avoid the ice.
Community content is available under
CC-BY-SA
unless otherwise noted.